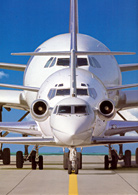 AVIA is a Canadian management firm that was established in 1986 to provide air transport consulting services catering to the expanding requirements of Canadian and International Air Transportation Companies as a consequence of the "relaxed" regulation of the industry and to counsel Canadian and provincial government departments and agencies, local and International Organizations.

AVIA is federally incorporated and is associated with other well established Canadian and foreign consulting firms.

Its offices are located close to Montreal-Trudeau International airport in Dorval (Quebec) as well as at Dollard-des Ormeaux (Quebec) and Ottawa (Ontario).